My friend Morgan and I had planned to go backpacking this past weekend. But with Colorado's recent historic floods having shut down many auto routes into the mountains, heading west was clearly not in the cards. So, in light of the devastation that our communities had endured, we did what any caring, concerned citizens of the Centennial State would have done.
We went to Wyoming.
Now, one's particular view of Wyoming usually goes one of two ways. Either
Wyoming consists of snow-capped mountains, geysers, fumaroles, and grizzly bears who have developed an appreciation for the finer nuances of Cheetos
or
Wyoming consists of shotguns, mudflaps featuring silhouettes of nekkid ladies, and Jesus.
Fort Collins is closer to Cheyenne than it is to Denver—if not culturally, then certainly geographically—so I feel somewhat obligated to say that there's far more to Wyoming than nekkid lady mudflaps. For example, many of Wyoming's mudflaps feature silhouettes of Jesus holding a shotgun.
But I digress. Seeking some face time with Mother Nature, Morgan and I drove up to southern Wyoming's Snowy Range, which is simultaneously the most descriptive and least original name ever bestowed upon a group of peaks, at least by those who are not French fur trappers.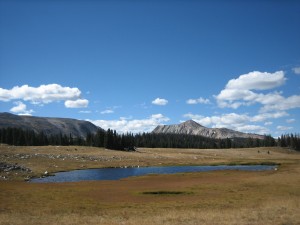 The hiking itself was fairly easy as these things go. No major ups or downs, just a nice, long walk on an undulating, uplifted plateau dotted with alpine lakes. In an unusual reversing of roles, however, the sleep situation was easily Class IV+, and I could have benefited from some rigorous pre-trip conditioning.
I normally snooze pretty well in the backcountry. Not great, but pretty well. I have a reasonably cushy sleeping pad. My sleeping bag is thirteen years old, but it's still going strong and is comfy down to 30 degrees. And my tent is one of those extra light backpacking models that, like women's undergarments, costs more despite being made from less fabric.
The tent consists of an inner mesh bit that you actually sleep in, which keeps out bugs and provides a vital escape route for freeze-dried-Pad-Thai-induced mountain farts. And then there's a waterproof fly that goes on top and keeps out the rain and—I honestly believe this—bears. You stake down the tent's corners and guy the fly out taut so that when things get gusty, your shelter doesn't tumble gaily down the hill in the manner of an enthusiastic wheel of Double Gloucester.
The wind in southern Wyoming is, however, so potent, so vicious, so maddeningly aggressive, that on the first night of this particular trip, it pulled the staked guy lines right out of the ground. Were I not actually lying in the tent at the time, I'm convinced the rain fly would have been transformed into a most festive orange kite.
You see, Wyoming is one of the top producers of wind in the United States. They export very little of it, though, so there are vast gobs of wind just whooshing about the place. In fact, there's an old, homespun Wyoming joke that goes something like this:
Q: How many Wyomingites does it take to change a light bulb?

A: WHAAAAAT???
When the sun finally came up, Morgan and I emerged from our respective tents and cursed lavishly while we heated water for coffee. Morgan had fared somewhat better than I thanks to a strategically sited group of trees (one of only six in Albany County), but not by much. The wind had made our tents shake. It had made the lanterns sway. It had made us hold our pee far longer than we normally would.
The Wyoming wind was disruptive. It was unnerving. It was wild.
I can't wait to go back.